Carroll County's neighboring Counties (creation date) are:
Ray (1820), Caldwell (1836), Livingston (1837), Chariton (1820), Saline (1820), and Lafayette (1820).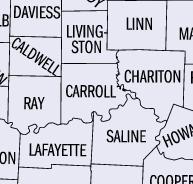 As you do your research, keep in mind that (1) Carroll County was formed in 1833 from Ray County, therefore, records containing information about anyone living in the area prior to 1833 would be recorded in Ray County, and (2) County lines were not drawn in the landscape. People lived and functioned where they were with little regard to the County line drawn on some map. They often did things where they did because it was close in proximity to where they lived or where they were going to for something else, not because it was in a particular county. Also, county lines have NOT always been the same as they are today; Carroll County did NOT change after it was established but that is unusual. Any place you are doing research, make sure you research where the county lines were at the time in which you are researching.
A good resource to help with this is U.S. Census Maps by SouthEastGenealogy.com. At this site you can see where County lines in the State of Missouri were from 1804 to the present on the "County Formation" Maps. You can choose the year you want to see or watch the "video" as it plays through all the years (you can stop and start this as you wish). There is also a "Census Map" for 1790-1890.